Supporting local students
We are dedicated to supporting our members, now and for the future. Our scholarship program is an essential part of that promise. The Pathfinder Scholarship originally began in 1987 as a $500 scholarship for one standout student from our community. Over the 33 years since the scholarship began, CCCU has expanded the program to include three, $1500 scholarships for deserving students in Douglas County each year.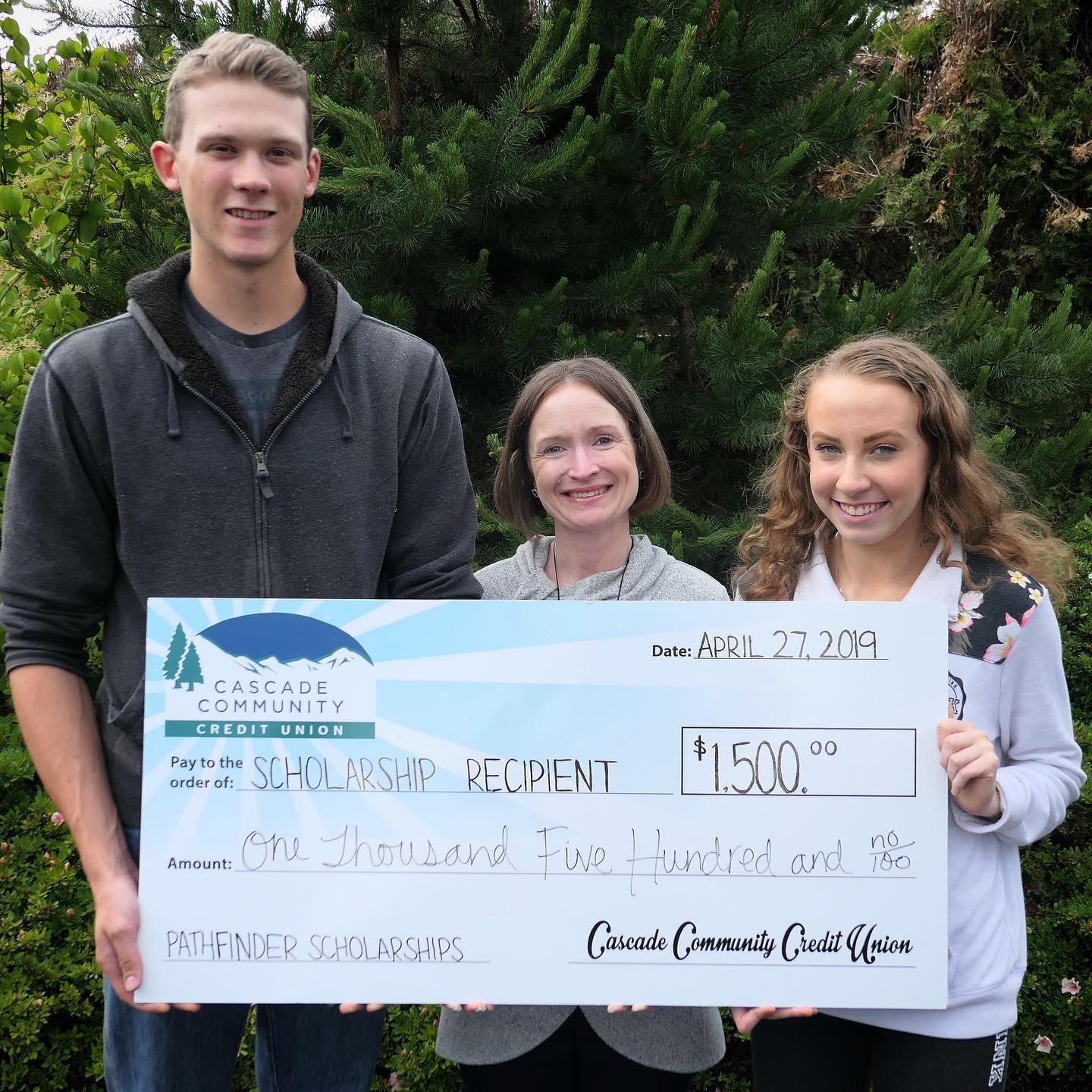 2020 Pathfinder Recipients
CCCU Pathfinder Scholarship recipients are selected on the basis of their academic performance, community involvement, financial need, and the applicant's potential to succeed in their chosen area of study. As a recipient, these students are recognized as one of the top collegiate candidates in Douglas County this school year.
Ellie Kenagy
Student Body President, Oakland FFA Chapter President and 4.0 student, Elizabeth is described as a "Multi-talented natural leader" by staff of OHS. This young member of CCCU is deeply rooted in Douglas County's Agricultural Community:
"Her successes are demonstrated by a growing Registered Red Angus herd and sharing her ag knowledge and experiences by writing articles for Working Ranch Junior Magazine, as well as helping younger showmen with their projects. Her FFA Chapter has confidence in her as well, electing her Chapter Officer all 4 years." -Margaret Fabrizius, Northwest Farm Credit Services Branch Manager
Tessa Hudgeons
Committed to her community and her family, for the past several years Tessa has shown her dedication and heart to help while balancing an active student schedule and part time job. Her passion for helping others has struck a chord with many in her community:
"Tessa has proven to be someone who genuinely cares for the wellbeing of others, of her community and environment, she has always put her best efforts towards achieving success in everything she tries and continues to learn from all experiences and takes away new knowledge and applies to the next situation." – Marion Pearson, Up2Us Now Child Abuse Prevention Coalition Violence Prevention Coordinator
Nolan Carson
Nolan committed much of his high school career to his classmates, while still maintaining a 4.0 and committing time to bettering his community. Nolan's leadership style separated him as a standout individual at Sutherlin High:
"What stands out most about Nolan is his leadership ability. The first time his strength of leadership struck me, was while chaperoning the 2017 Oregon Envirothon. Nolan was part of a Novice team where he galvanized his teammates and they rallied around him. The conditions were miserable, cold and rainy, but Nolan kept encouraging his team throughout the day. In the end, I can't remember how the team placed in the competition, but they found their leader. " – Kevin Hunt, SHS Principal
Join us in our mission
As a CCCU member, you're helping make your community a better place! We proudly support local events and organizations throughout our Douglas County Communities and always look for ways to include our members in volunteer activities.
Who can join?
Community members who live, work, or worship in Douglas County
Immediate family of someone who lives, works, or worships in Douglas County
Residents of the following towns in Oregon:
| | | |
| --- | --- | --- |
| Reedsport | | Oakland |
| Riddle | | Canyonville |
| Roseburg | | Drain |
| Sutherlin | | Elkton |
| Winston | | Glendale |
| Yoncalla | | Myrtle Creek |