Why wait for friendly service and local assistance?
Cascade Community Credit Union has been voted the best Credit Union in Douglas County for over 20 years, we think it has something to do with how we prioritize our members and their time. At our branches you'll experience little to no wait, whether that be in our lobby or at our Drive-Up.
Appointments aren't required, so if you have a question or want to see what makes Cascade Community so different stop by a branch and find out today!
Douglas County's only locally headquartered financial institution
CCCU Harvard
1123 W Harvard Ave, Roseburg, OR 97471
You can visit this branch to:
Open an account
Get a debit card instantly
Apply for a loan
Meet with a Mortgage Loan Officer (by appointment)
Make ATM deposits
Use our coin-counter
Receive Notary Services
Hours:
Monday 9:00am – 5:00pm
Tues – Thurs 10:00am – 5:00pm
Friday 10:00am – 6:00pm
Drive-Up
Monday – Friday 9am – 6pm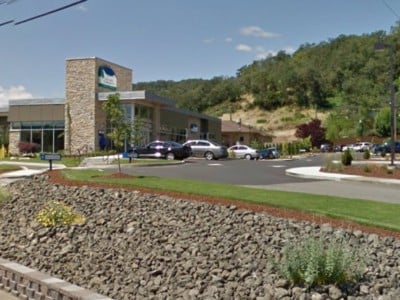 CCCU Garden Valley
1070 NW Garden Valley Blvd, Roseburg, OR 97471
You can visit this branch to:
Open an account
Get a debit card instantly
Apply for a loan
Meet with a Mortgage Loan Officer (by appointment)
Make ATM deposits
Use our coin-counter
Receive Notary Services
Hours:
Monday 9:00am – 5:00pm
Tues – Thurs 10:00am – 5:00pm
Friday 10:00am – 6:00pm
Drive-Up
Monday – Friday 9am – 6pm
CCCU Sutherlin
127 E Central Ave, Sutherlin, OR 97479
You can visit this branch to:
Open an account
Apply for a loan
Meet with a Mortgage Loan Officer (by appointment)
Use our coin-counter
Hours:
Mon 9:00am – 5:00pm
Tues – Thurs 10:00am – 5:00pm
Friday 10:00am – 6:00pm
Drive-Up
Mon – Thu 9:00am – 5:30pm
Friday 9:00am – 6:00pm